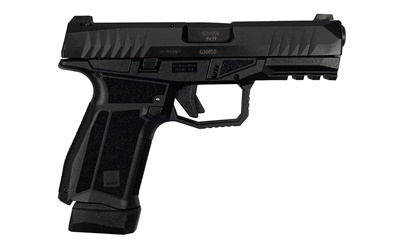 Arex Delta M Gen 2 Black 9mm Pistol, (3)-Magazines, 4.0″ – 602381
$479.00 Free 3rd Magazine!
| | |
| --- | --- |
| Condition | Select conditionUsedFactory New |
Available in Store Now: 5+
Purchase in Store or over the phone at 210-342-5420
PRODUCT INQUIRY
Arex Delta M Gen 2 Black 9mm Pistol – Get a Free 3rd Magazine for a Limited time!!
The Arex REX Delta pistol does not claim to be a revolutionary breakthrough but you will find it represents a definitive evolutionary step in modern handgun design and manufacturing. We have achieved improvements over some of the most popular designs, eliminating their weaknesses and enhancing their advantages by applying our expertise and state-of-the-art CAD/CAM processes. The result is a best-in-class defensive pistol that boasts extreme reliability and accuracy along with a competitive price.
The Arex Rex Delta firearm features a black polymer frame with four interchangeable backstraps, low profile sights, one-slot picatinny rail, black nitrocarburized steel slide, firing pin safety, and an automatic triple layer passive drop safety system(3DS). It comes with one (1) 15-round and one (1) 17-round magazine.
Arex Delta M Gen 2 Black 9mm Pistol – Free 3rd Magazine for a Limited Time!
FAMILY: Arex Delta M Gen 2
MODEL: Arex Delta M Gen 2
TYPE: Semi-Auto Pistol
ACTION: Double Action
FINISH: Black
STOCK/FRAME: Polymer Frame
STOCK/GRIPS: Stippled
WEIGHT: 22.2oz
CALIBER/GAUGE: 9mm
CAPACITY:(15)+1 & (17)+1
BARREL: 4.0″
OVERALL LENGTH: 8″
SIGHTS: Fixed
SAFETY: Internal; Trigger
Other Features: Interchangeable Backstraps
Other Features: Flat Trigger
Other Features: